IPO 10 Campione d'Italia – April 2013
P From 23 to 30 April 2013 will stage the tenth edition Italian Poker Open: The event will be hosted at the Casino Campione d'Italy.
The event, sponsored by Titanbet.it, provides for a buy-in to the Main Event of € 550 and numerous new features compared to previous editions, the first of an amazing guaranteed prize pool of one million Euros!
Also the tournament structure has been modified to cope with the expected huge turnout player: we will in fact three day 1 (23, 24 and 25 April) and even two day 2, a novel regarding live tournaments on the Italian territory .
It will start with a stack of 40,000 chips with levels will increase every 45 minutes the first day, 60 minutes on Day 2, 75 minutes on Day 3 until you get to 90 minutes of the final table.
In addition to the Main Event, the organizers have planned other side events that will accompany the players throughout the 10 dedicated IPO weekend.
Below is the full program of the Italian Poker Open 10: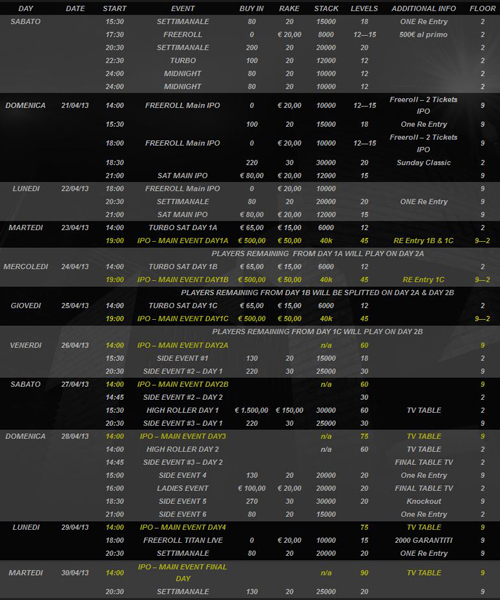 << guarda gli altri tornei di poker al casinò di campione d'italia